dating site Developer
Why should you choose us to power your dating site? Let's face it. There are a few fairly decent dating site programs/scripts around, all with different strengths and weaknesses. Our dating sites are superior to all of them in ease-of-use, features and price. Our dating site system is built for entrepreneurs by entrepreneurs. The program is built by programmers and designers who understand the online selling process from start to finish.
Get to know the experts at DateDev.com, and work with a partner who's passionate about your potential. We are dating site builders, We develop robust, full featured dating and social network sites using the most current cutting-edge technologies. Our extensive experience enables us to create a fully-featured site within a few weeks not months or even years like our competitors. We have been in the business of developing dating sites for over 12 years, we are not new at this. We are dating site designers, its all we do do so we do it very well.


Check out our Dating Site Development Servicers »
According to the last US Census there were 316,497,531 people in the U.S of that 230,093,705 are over 18 and of that number 105 million are unmarried. That is a huge market for online dating websites.

DATING WEBSITE STATISTICS
• 84% of its singles say they use tools like Yelp to review potential date venues.
• A Consumer Reports study found online dating stressful and time-consuming to users but it does produce the intended result if you continue to use it.
• Among singles reluctant to try online dating, 21% of women and 9% of men said it was because they knew someone who had a bad experience.
• Of those who have yet to try online dating are reluctant because 50% describing themselves as private people, 48% worried about their information security, and 46% worried about scams.
• 4% of online daters who had success said that their use of online dating led to marriages or serious long-term relationships.
• Men and women both send unsolicited sexts in equal amounts which is 50% of the time for each.
• The largest share of adults worldwide who are actively paying for a dating service are from United States (26%), United Kingdom (21%), and Germany (17%).
• The smallest share of adults worldwide who are actively paying for a dating service are from France (13%), China (11%), and Saudi Arabia (5%).
• The use of online dating services (sites and apps) among young adults (ages 18-24) nearly tripled from 2013 to 2016 (from 10% to 27%).
• Real life events seem to be the latest trend with dating services.


STATISTICS BY COUNTRY
United States
• In order Vermont, Maine, New Hampshire, Utah, Idaho, Wyoming, West Virginia, Connecticut, Minnesota, and New Jersey came out on top as the safest states for online dating.
• Only 1.6% of 18-26 year-olds who are on dating apps pay for premium services.
• In 2017 revenue is expected to be over $3 billion for US companies. The annual growth rate from 2012 to 2017 is 5.3%.
• There are 6,747 companies in the dating business who employee 9,592 people in the United States.
• It is estimated that Match Groups market share (includes Match.com, Tinder, OkCupid, POF, etc..) to be 25.7%. In second place is eHarmony with 12%.
United Kingdom
• Half of British singles have never asked someone out on a date face to face, only online.
• 46% of singles had never broken up with someone in person, it was done online or via texting.
• 25% felt dating apps allowed them to feel more comfortable and to be themselves in dating scenarios.
Australia
• Every year Australian singles spend $11.65 billion on dating.
• Australians spend an average of $79 on a first date, with one third of singles going on at least one first date per month, and a further 32% going on two or more first dates per month.
• 18% of Australians have paid for dating services, this works out to $80.7 million each year.
India
• New regulations will require dating websites to keep IP address records, and require users to upload documents proving their identity.
China
• China revises cybersecurity law which now requires dating services to have users to sign up with their phone numbers, which are linked to citizen's national ID numbers.


Dating, Relationships & Marriage
• In a study of first dates by Coffee Meets Bagel it was found:
• 37% of couples chatted for a week before going on that first date.
• Thursdays, Fridays and Saturdays are the most popular days for first dates.
• 33% of couples went out to dinner for their first date rather than going out for drinks or coffee.
• 80% of men paid for the first date, while 20% split the check.
• 73% of first dates cost less than $50.
• 45% of singles kiss on the first date.
• 77% of couples planned their second date during the first date.
• We tend to view our own traits favorably, so we also look positively on those same traits in others. This applies to both personality traits and physical characteristics.
• A study found humans are likely to pick partners with similar DNA. This "assortative mating" strategy helps ensure our genetics are successfully passed on to future generations.
• Online daters tend to select partners who have completed the same level of formal education.
• Older educated online daters care less about how educated their matches are.
• In the 2017 Singles In America study it was found:
• 15% of singles say they feel addicted to the process of looking for a date on a dating service. Millennials are 125% more likely to feel addicted than older generations.
• 33% of Millenial singles have had sex before a first date
• 22% of Millennials say they think technology has made finding love more difficult and 57% say they're lonely.
• Millennials are 30% more likely than other generations to have a first date that leads to a second date.
• In the 2017 Singles In America study it was further found:
• Millennials are 125% more likely to say they feel addicted to dating than older generations.
• 75% of singles said they are turned off if their dates answer their phones while they are together.
• 66% of singles said they don't like when their dates texts while they are together.
• 55% of singles say technology has made dating harder.
• Millennials are 75% more likely than Boomers to have dated someone online, and 57% more likely than those of other generations to have created a profile on a dating app.
• A recent study found online daters are less willing to hold out for the "perfect" person and more interested in finding someone who might have potential.
Regarding Tech and love, in the 2017 Singles In America study it was found:
• 29% of singles said that actual phone calls are big turn-ons.
• 26% of singles think it's a turn-on if you're not on social media at all.
• Millennials are 270% more likely to think it's hot if you're binge-watching the same TV shows.
• The biggest tech turn-offs are constant social media activity (50%) and complaining openly on Facebook (58%).
• 62% of singles said they prefer to eat a heartier dish on a date, while 38% percent said they prefer a lighter meal.
• The average unmarried American spent $1,596 on their dating life in 2016. $1,855 for men and $1,423 for women.
• 35% of online daters say "I love you" within the first three months of being in a relationship, compared to 30% of offline daters.
• People who date online are likely to have more committed relationships than those who do not date online.
• In the 2017 Singles In America study it was found about lying:
• 57% of daters claim they do not tell white lies while they're dating.
• 19% of daters have lied about their sexual history, 17.6% have lied about their dating history. 12% have lied about their finances, and 8% have lied about their age.
• 27% of men said they had a date view a social media account and have been busted in a lie, and 17% of women said the same.
• 85% of singles say that a date's sense of adventure was an attractive quality, and 76% said they'd like to try something new in the coming months.
• Heterosexual couples are generally around the same age, even as they get older.
• Same-sex couples display the stereotypical age gap as they grow older, leveling off at about • 4.5 years difference after age 38.
• How much interest couples have in each other is a better predictor of love than having a lot of friends in common.
• 1 in 2 online dating users say traveling is one of their favorite things to do.
• 57% of singles take one or more vacations per year.
• 72% of singles think that someone's voice makes a person really attractive.
• 90% of Millennials say they would find enjoyment in acting as matchmaker for their friends.
• 61% of singles find with the rise in technology usage that it has impacted our ability to have meaningful, face-to-face conversation.
• 50% of singles said they'd rather have a great conversation with their crush all night. 25% chose a romp between the sheets, and another 25% said they'd take a good night's sleep over anything else


A Study of Online Dating and Marriages:
• One third of marriages start online.
• 70% of gay relationships start online.
• The increase of interracial marriages rapidly becomes steeper around 2004 when online dating became more popular.
• Marriages founded through online dating services are less likely to break up within the first year.

WORLD INTERNET USAGE AND POPULATION STATISTICS
JUNE 30, 2017 - Update

World Regions

Population
( 2017 Est.)

Population
% of World

Internet Users
30 June 2017

Penetration
Rate (% Pop.)

Growth
2000-2017

Internet
Users %

1,246,504,865

16.6 %

388,376,491

31.2 %

8,503.1%

10.0 %

4,148,177,672

55.2 %

1,938,075,631

46.7 %

1,595.5%

49.7 %

822,710,362

10.9 %

659,634,487

80.2 %

527.6%

17.0 %

647,604,645

8.6 %

404,269,163

62.4 %

2,137.4%

10.4 %

250,327,574

3.3 %

146,972,123

58.7 %

4,374.3%

3.8 %

363,224,006

4.8 %

320,059,368

88.1 %

196.1%

8.2 %

40,479,846

0.5 %

28,180,356

69.6 %

269.8%

0.7 %

7,519,028,970

100.0 %

3,885,567,619

51.7 %

976.4%

100.0 %

NOTES: (1) Internet Usage and World Population Statistics updated as of June 30, 2017. (2) CLICK on each world region name for detailed regional usage information. (3) Demographic (Population) numbers are based on data from the United Nations Population Division. (4) Internet usage information comes from data published by Nielsen Online, by ITU, the International Telecommunications Union, by GfK, by local ICT Regulators and other reliable sources. (5) For definitions, navigation help and disclaimers, please refer to the Website Surfing Guide. (6) Information from this site may be cited, giving the due credit and placing a link back to www.internetworldstats.com. Copyright © 2017, Miniwatts Marketing Group. All rights reserved worldwide.
Global Internet Trends
Number of Websites in 2018
There are over 1.24 billion websites all over the world.
Web Growth Statistics
The fastest growing segment of the internet is the number of mobile social media users.
Mobile Internet Penetration
South Korea leads with 71.5% of the population who are mobile users.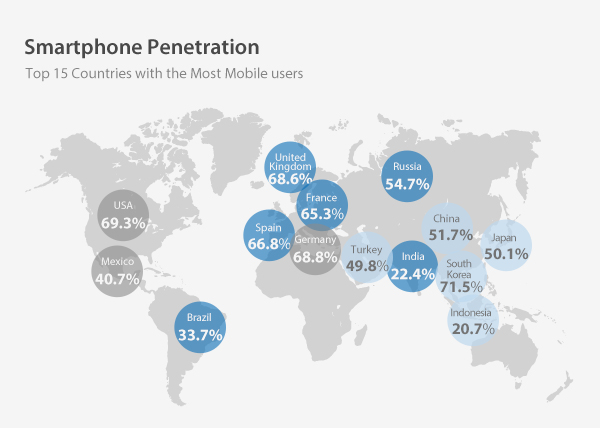 Internet Traffic Statistics
There are 4,156,932,140 internet users as of December 2017.
Asia accounts for almost half of the world's internet users.
Smart Device Comparisons
Percentage of Mobile Web Internet Traffic
An astonishing 83% of Kenya's total web traffic comes from mobile devices.
Number of SmartPhone Users
While several forecasts pegged 2014 as the "year of revolution" when mobile-only users would surpass desktop-only users, it turns out the forecast finally became reality in the U.S. in 2015. Since the start of 2017, mobile has surpassed desktop use and steadily remains so.
U.S. Platform Trends
In the U.S. the fastest growing segments of device ownership are smartphones and tablets.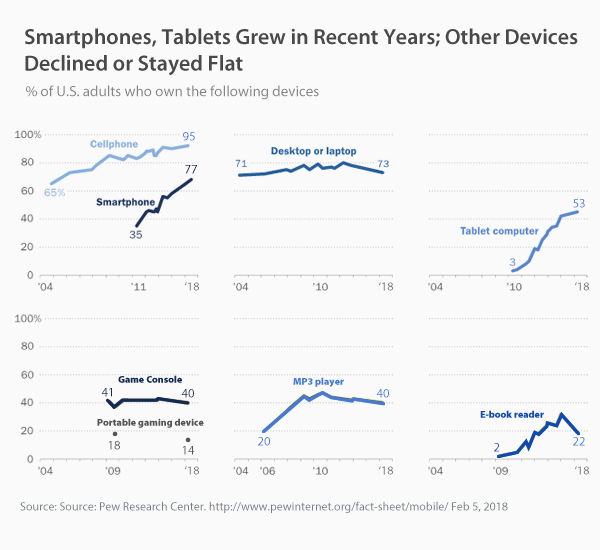 Tablet Internet Use
Tablet penetration has risen slowly over the past couple of years. By 2020, tablets will be used by 35% of all internet users.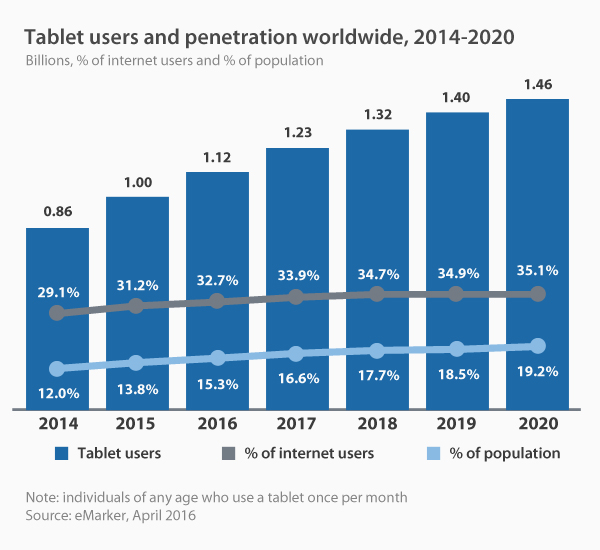 Desktop vs Mobile vs Tablets in the U.K.
In the U.K., the number of people who use a desktop decreased from 54% to 51% in nearly a year.
Website Performance
How Load Time Affects Web Page Abandonment
While web page features such as plug-ins, pop-ups, and streaming video may help convey your message, they hinder the page load time. As the following charts show, a page that takes longer than 3 seconds to load runs a high risk of abandonment.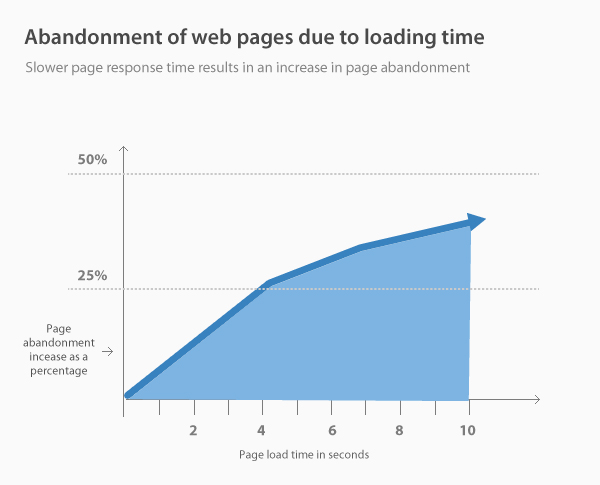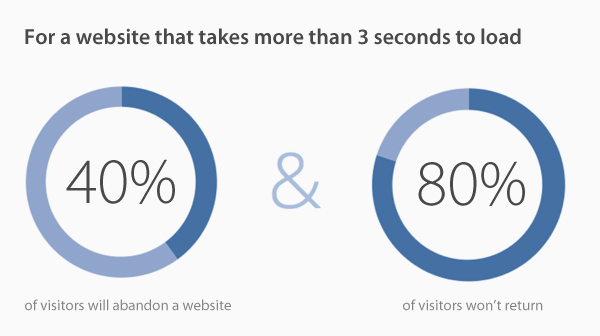 Search and Social Media
Most Popular U.S. Online Activities
In the U.S. last year, communication and social apps dominate.
Percentage of Internet Browser Users
In terms of web browsers used, Google Chrome continues to thrive. According to the latest numbers, it is more than 4 times as popular as its next closest competitor (Firefox).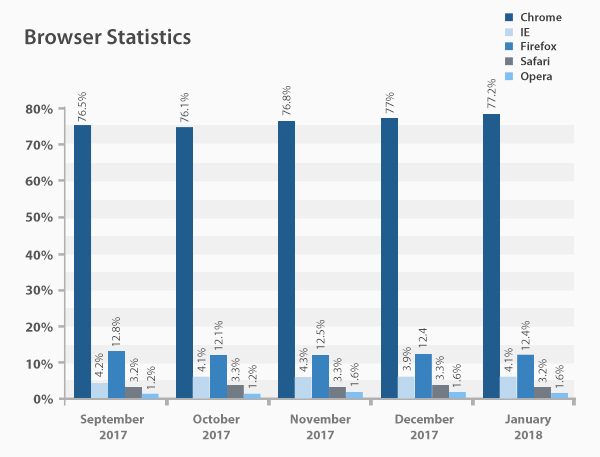 Percent of Internet Time Spent on Search Engine/Social Media, etc.
The top three activities for Mobile device users in 2018: maps, instant messenger, and music.
Percent of Most Visited Websites
Google wants to be the internet's portal, and it is well on its way. The internet giant's flagship page nearly tripled the 2nd place website (Facebook) in terms of page visits.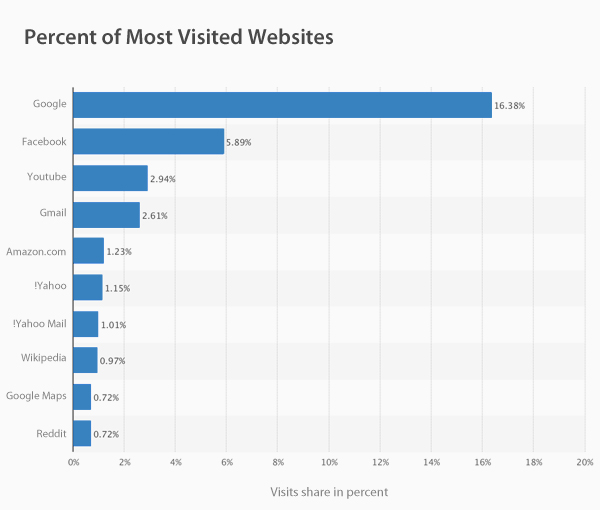 Global and U.S. E-Commerce Trends
Statistics on Internet Research before a Purchase
People between 18-29 are the most likely to purchase a product online, while only a little more than half will research the product beforehand.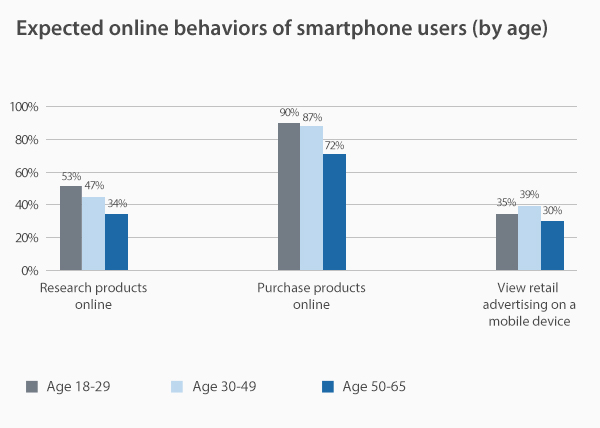 Facts and Statistics about Product Reviews
Think reviews are important? You're right! 53% of shoppers read customer reviews before purchasing a product.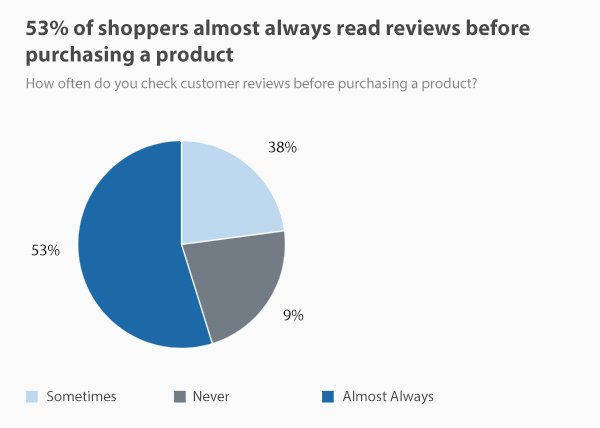 E-commerce Spending Via Desktops
When it comes to online purchasing, people purchase more on desktop than they do on tablet or smart-phones.
World E-commerce Statistics
Business to Consumer sales (B2C)have steadily increased over the years. The Asian-Pacific nations lead this category, with an expected $707 billion + of sales in 2017.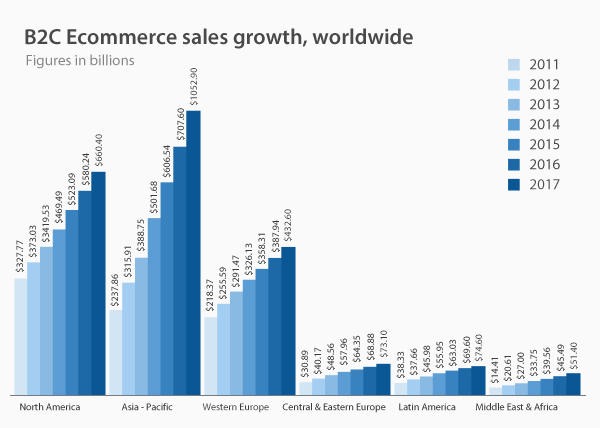 Who Uses the Internet to Shop?
The U.S. leads in overall e-commerce spending.
2017 U.S. Online Shopping
In terms of U.S. e-commerce, Pinterest is lapping the field.
Forecast and Trends for 2018 and Beyond
Currently, mobile users spend double the time in apps as they do on mobile web pages. In future years, this gap is expected to grow even wider.
Mobile App vs Mobile Web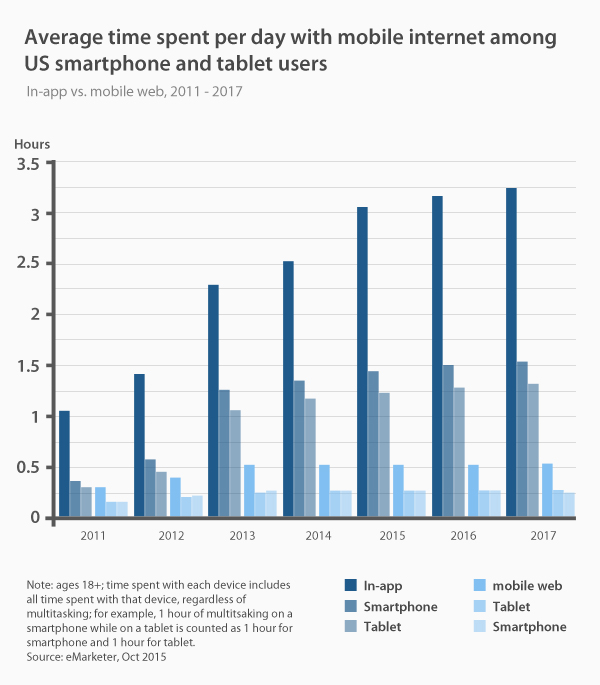 Worldwide E-commerce Forecast
By 2021, global retail e-commerce sales are expected to approach $4.4 trillion.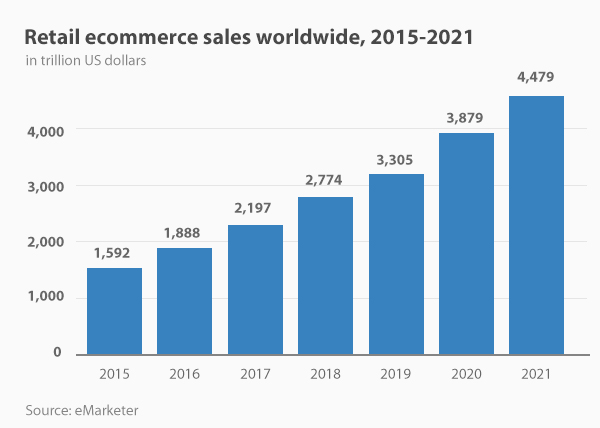 Feel free to use these statistics on your site, whether the entire article or just a single graph, with attribution.
Internet Trends: Resources Used
www.internetworldstats.com/stats.htm
hostingfacts.com/internet-facts-stats-2016/
www.smartinsights.com/social-media-marketing/social-media-strategy/new-global-social-media-research/
asia.googleblog.com/2015/06/mobilestatsforasia.html
www.marketingsherpa.com/article/chart/online-shopping-behaviors-based-on-age
blog.kissmetrics.com/5-ecommerce-stats/
marketingland.com/167928-167928
www.statista.com/chart/541/conversion-rates-of-online-shoppers-in-q4-2013/
dazeinfo.com/2013/07/01/global-ecommerce-sales-2013-india-us-uk/
www.statista.com/chart/3790/e-commerce-revenue-per-online-shopper/
www.smartinsights.com/mobile-marketing/mobile-marketing-analytics/mobile-marketing-statistics/
www.slideshare.net/kleinerperkins/internet-trends-v1/24-24Time_Spent_on_Screens_by
www.pewinternet.org/2015/10/29/technology-device-ownership-2015/
dazeinfo.com/2016/06/13/number-internet-users-worldwide-2016-2020/
smartinsights.com/?attachment_id=72442
www.comscore.com/Insights/Presentations-and-Whitepapers/2014/UK-Digital-Market-Overview-February-2014?cs_edgescape_cc=US
blog.kissmetrics.com/loading-time/?wide=1
www.yottaa.com/company/blog/application-optimization/marketing-web-performance-101-how-site-speed-impacts-your-metrics/
www.statista.com/statistics/204954/average-internet-connection-speed-worldwide/
www.statista.com/statistics/183910/internet-activities-of-us-users/
w3techs.com/technologies/overview/content_management/all
www.w3schools.com/browsers/browsers_stats.asp
www.statista.com/statistics/281366/share-of-us-online-time-spent-on-online-content-by-channel/
www.statista.com/statistics/265770/most-popular-us-websites-by-market-share-of-visits/
www.kpcb.com/blog/2016-internet-trends-report
appdevcare.hu/hirek/growth-of-time-spent-on-mobile-devices-slows/
https://anadea.info/blog/outsourcing-e-commerce-website-development

About us
Global Marketing Group – (DateDev.Com) is the ideal partner and vendor to help your business create an Internet presence that will enhance its equity, foster a one-to-one relationship with its clients, and lays the groundwork for more effective communication with its vendors, suppliers and investors. View More »
Possible keywords used to find us: dating site developer's, dating site developers, dating site, dating site builder, dating sites, dating site creator, dating website, dating website builder, dating website business, dating website creator, dating website design, dating website designer, dating website designers, dating website developer, dating website for sale, dating website reviews, dating website software, dating websites
TECHNOLOGY STACK
What Do We Do
We take your idea for a niche dating site or universal dating site and put it online.
We build dating sites. Read More »

About Our Offers
Check out our special offers.
Request a no obligation proposal and ask about our Turn Key Dating Website Development Special. Request for Proposal - Click Here »

Our Jobs
We are always looking for sales, marketing and php programmers who know the inner working of dating sites and social network developments and can think outside the box. Contact Us »
Get in touch!
Telephone: +1 (949) 689-0449
Skype: heebeha
FAX: +1 (208) 730-7500
NY Office: (631) 238-8456
E-mail: datesitedesigner@gmail.com
Testimonials
" Thanks to Global Marketing Group and Jeff Dean, "Actually Meet People Dating" has a competitive dating website. Jeff and his team have worked closely with us to develop complex and sufficient website. Meeting all of our expectation and continues with great technical support.
Thanks for everything, "
Brandon
Ampdating.com

" Jeff at DateSiteDesigner.com worked closely with me to provide an excellent and very user friendly dating website. My specifications for my site were very detailed and Jeff acknowledged this and came through wonderfully! I would recommend Jeff to a friend.
Thank you for your hard work.
Eric Skyler
President
MillionaireDatingInc.com